Fun Facts and Recent News:
Check out the latest fun from the EV world.
40 Million Reasons To Go Electric
Price Parity is Not the Key to EV Adoption in the US
Electric Vehicle Savings Calculator:
The Savings Calculator offered by the Center for Sustainable Energy shows which EV incentives you qualify for, how the incentives can be combined, and the total amount you may be able to save an a new or used vehicle.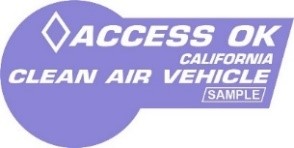 HOV Lane Stickers:
HOV lane stickers are available for new vehicle purchases, vehicles that have not had an HOV lane sticker, and for low income individuals.
Green, White, and Yellow stickers have expired.
Red stickers expire January 1, 2022
Purple stickers expire January 1, 2023
Orange stickers expire January 1, 2024
Blue decals expire Jan 1, 2025

More information available from the Department of Motor Vehicles and the California Air Resources Board.

Electricity Rates in San Diego:
After reviewing recommended rate structures for electric vehicles. Join us at the EV Association Monthly Presentation to talk with other EV drivers about what rate structure they use. The Electric Vehicle Association recommends charging up your EV during the day when possible. Solar produces electricity during the day thus, when the sun is out, there is more renewable energy is available on the electricity grid.
Federal Tax Credit:
To take advantage of the full $7,500 federal tax credit you must have $7,500 in federal tax liability. Otherwise, the credit is limited to your total tax liability. (eg. $5,800 in tax liability = $5,800 tax credit.) There is no carry forward.
Tesla reached the tax credit reduction trigger in Q3, 2018. Thus, the federal tax credit on Tesla vehicles expired on December 31, 2019.
GM reached the tax credit reduction trigger in Q4, 2018. Thus, the federal tax credit on GM vehicles expired on March 31, 2020.

State Rebate: $2,000 (electric) or $1,000 (plug-in hybrid):
CleanVehicleRebate.org
Low income filers can qualify for an additional $2,000.
(see CVRP website for income levels)
Other Rebates and Grants:
SDG&E/Plug In America: "Champions for Clean Air Rebate" – $1,000 rebate for first responders and teachers when purchasing a new EV or PHEV. Must live and work in SDG&E service area. This is a point of sale/dealer program.
Highly recommend links to keep up with EV news
https://www.facebook.com/DriveElectricDayton
https://www.facebook.com/ElectricAutoAssociation
https://www.facebook.com/groups/288405808264004
https://www.cleanfuelsohio.org/drive-electric-ohio